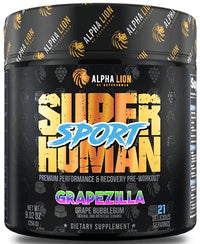 Alpha Lion SuperHuman Sports Recovery Pre-Workout
Alpha Lion SuperHuman Sports is a pre-workout supplement designed to enhance athletic performance. It is formulated with a range of ingredients intended to provide benefits related to performance, endurance, and recovery. Here are some key features and Claims:

Performance Enhancement: SuperHuman Sports is specifically created for individuals looking to optimize their athletic performance. It aims to help you achieve better results in the gym, on the field, or during any sports-related activities.

Research-Backed Ingredients: SuperHuman Sports contains eight premium, trademarked ingredients. These ingredients are chosen with the needs of performance athletes in mind and are likely based on scientific research to support their effectiveness.

Transparent Label: SuperHuman Sports is 100% transparent about its ingredients. This means you can see the specific components and their dosages on the label, which can be important for informed and responsible supplementation.

Banned Substance-Free: Athletes need to be cautious about consuming substances that might result in a positive doping test. SuperHuman Sports claims to be free of banned substances, which can provide peace of mind for competitive athletes.

It's important to note that the effectiveness and safety of any supplement can vary from person to person. 
Supplement Facts
Serving Size 1/2 Scoop 42 servings  1 Scoop 21 serving
Servings Per 1/2 Scoop Container 42
Amount Per Serving % Daily Value*
Superhuman Elite ATP & Performance Matrix
Betaine Anhydrous 1250mg *
BioEnergy D-Ribose 1250mg *
L-Ornithine 1000mg *
elevATP (Ancient Peat & Apple Extract)75mg *
Caffeine Anhydrous 37.5mg *
CaffXtend Natural Time Release Caffeine 12.5mg *
SuperHuman Peak Endurance Matrix
Peak02 500mg *
([Cordyceps Militaris (Cordyceps) (Root), Ganoderma Lucidim (Reishi) (Root), Pleurotus eryngii (King Trumpet)(Root)Lentinula Edodes (Shiitake)(Root), Hericium Erinaceus (Lions Mane) (Root), And Trametes Versicolor (Turkey Tail) (Root)
Aquamin 250mg *
(Sea Minerals (Lithothamnium corallioides))
RhodioPrime 150mg *
([Rhodiota crenulate (root) Extract (6% salidroside))
SuperHuman Recovery Nutrient Uptake Matrix
VitaCherry Sport 200mg *
((Whole Montmorency Tart Cherry))
AstraGin 25mg *
(Astragalus membranaceous and Panax notoginseng (root) Extract)


Other Ingredients: Malic Acid, Natural & Artificial Flavors, Citric Acid, Silicon Dioxide, Sucralose, Acesulfame Potassium.