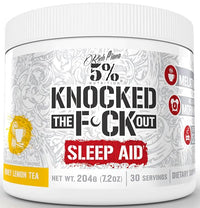 5% Nutrition Knocked The F*ck Out 30 Servings
Rich Piana's 5% Nutrition Knocked The F*ck Out is a dietary supplement designed to support sleep and relaxation. It contains a blend of herbs, amino acids, and natural ingredients that are often associated with promoting better sleep and reducing stress.
Before using any sleep or dietary supplement, it's advisable to consult with a healthcare professional to ensure that it's safe and appropriate for your specific needs and health status. Additionally, always follow the recommended dosage instructions on the product label.
Supplement Facts
Serving Size: 1 Scoop 5.1g
Servings Per Container: 30
Vitamin B6 (as pyridoxine hydrochloride) 2mg
Gamma Aminobutyric Acid (GABA) 750mg
L-Tyrosine 750mg
Chamomile Flower Extract (Matricaria chomomilla) 650mg
Inositol 500mg
Lemon Balm Leaf and Stem Extract (Melissa officinalis) 500mg
L-Tryptophan 500mg
Mucuna Pruriens Extract (L-DOPA)(seed) 200mg
Passion Flower Extract (Hibiscus Sabdariffa) 200mg
L-Phenylalanine 75mg
L-Theanine 75mg
5-Hydroxytryptophan (5-HTP)(from Griffonia simplicifolia Extract)(seed) 30mg
Melatonin 8mg
Other Ingredients: Natural Flavors, Citric Acid, Sucralose, Silicon Dioxide