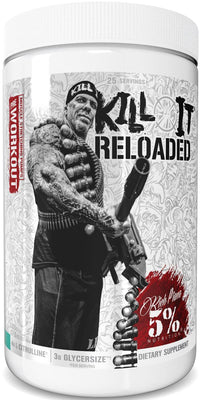 5% Nutrition Kill It Reloaded
5% Nutrition Kill It Reloaded is a pre-workout supplement designed to enhance your workout performance. It is marketed as an improvement in the stimulant-based pre-workout category. Pre-workout supplements like this are formulated to provide various benefits, including increased energy, focus, endurance, and strength during your exercise routine.
It's important to follow the recommended serving size and not exceed it, as overuse of pre-workout supplements can have negative side effects, including jitters, insomnia, and increased heart rate.
Supplement Facts
Serving Size: 1 Scoop
Servings Per Container: 25
Niacin (as Vitamin B3)((as niacinamide) 30 mg 188%
Sodium (as Sodium Citrate) 20 mg 1%
Potassium (as Potassium Citrate & Inositol-Stabilized Arginine Silicate) 70mg 1%
N.O Blend:
L-Citrulline 4000mg *
GlycerSize (standardized to 65% Glycerol) 3000mg *
Beta-Alanine 2000mg *
L-Taurine 2,000mg *
Betaine 1,000mg *
Nitrosigine (Inositol-Stabilized Arginine Silicate) 750mg *
Nootropic Blend:
Choline Bitartrate 500mg
L-Theanine 100 mg
Huperzia serrata (herb) Extract (std.1% Huperzine A) 100mcg *
Creatine Blend:
Creatine Anhydrous 2,300mg *
Creatine Monohydrate 100mg *
Creatine Pyruvate 100mg *
Stim Blend:
Caffeine Anhydrous 267 mg *
Caffeine Citrate 50 mg
Infinergy DiCaffeine Malate (74% Caffeine) 50mg *
Raw Coconut (Cocos nucifera) (fruit) Water Concentrate 100mg *
*Percent Daily Values are based on a 2,000 calorie diet.
Other Ingredients: Malic Acid, Silicon Dioxide, Natural Flavors, Citric Acid, Sucralose, Blue #1