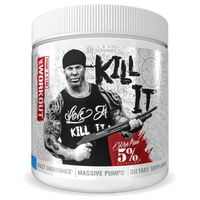 5% Nutrition Kill It is a pre-workout supplement that is designed to enhance your performance during workouts. It's marketed as an option for both beginners who are new to pre-workout supplements and bodybuilders who prefer a product with lower caffeine content.
Here are some key points about this product:
Pre-Workout Supplement: Kill It is a pre-workout supplement, which means it's intended to be taken before your exercise session to provide you with energy, focus, and improved performance.

30 Servings: This product comes in a container with 30 servings, which means it can last for approximately a month if you take it as recommended.

Lower Caffeine Content: It is mentioned that Kill It contains less caffeine than some other pre-workout supplements. This may be appealing to individuals who are sensitive to caffeine or who prefer to limit their caffeine intake.

Performance Enhancement: The primary goal of this pre-workout is to enhance your performance during exercise. This could include improved strength, endurance, focus, and pumps (muscle fullness and vascularity).
It's important to note that the effectiveness of pre-workout supplements can vary from person to person, and the results may depend on individual factors such as body composition, tolerance to stimulants, and specific fitness goals. It's always a good idea to read the product label, follow the recommended dosage instructions, and consult with a healthcare professional if you have any concerns or underlying medical conditions.
Additionally, if you're new to pre-workout supplements, it's a good practice to start with a lower dose to assess your tolerance and gradually increase it if needed.
Supplement Facts
Serving Size 1 Scoop(s)
Servings Per Container 30
Amount Per Serving % DV

Niacin (as Niacinamide) 30 mg **
Magnesium (as Magnesium Creatine Chelate)(Creatine MagnaPower) 72 mg **
Sodium (as sodium citrate) 24 mg **
Potassium (as Potassium Citrate and Raw Coconut (Cocos nucifera)(fruit) Water Concentrate) 42 mg 1%

NO/Endurance Blend: 7500 mg **
L-Citrulline, Beta-Alanine, Taurine, Agmatine Sulfate (AgmaMax), N-Acetyl L-Tyrosine, Creatinol-o-Phosphate (COPMax) Caffeine Anhydrous (250 mg), L-Norvaline, Rhodiola rosea (root) Extract

Creatine Blend: 1500mg **
Magnesium Creatine Chelate (Creatine MagnaPower®), Creatine Monohydrate, Creatine Pyruvate.

** Daily Value (DV) not established.
Other Ingredients: Natural Flavors, Silicon Dioxide, Sucralose, Citric Acid, Yellow #6