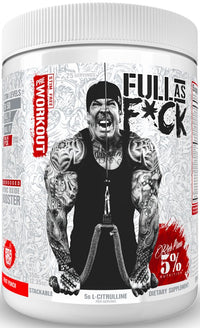 5% Nutrition Full As F*ck
5% Nutrition's Full As F*ck is a dietary supplement designed to enhance nitric oxide production and cell volumization, typically used as a pre-workout supplement. The product claims to provide a fully disclosed formula, meaning that it lists the exact dosages of each ingredient used, without hiding them within proprietary blends. This transparency is appreciated by consumers who want to know exactly what they are putting into their bodies.
It's essential to remember that the effectiveness of a supplement can vary from person to person, and it's important to follow the recommended serving size and consult with a healthcare professional if you have any underlying health concerns or are taking other medications. Additionally, it's a good practice to read reviews, do your own research, and make an informed decision when considering any supplement.
Supplement Facts
Serving Size: 1 Scoop (14 Grams)
Servings Per Container: 30
Amount Per Serving
Vitamin C (as Ascorbic Acid, Calcium Ascorbate) 250mg 278%
Niacin (as Vitamin B3) 30mg NE 188%
Phosphorus (as Dipotassium Phosphate) 60mg 5%
Magnesium (as Magnesium Citrate, Magnesium Glycerophosphate) 15mg 4%
Sodium (as Sodium Glycerophosphate) 1mg <1%
Potassium -(as Dipotassium Phosphate, Potassium Citrate, Inositol-Stabilized Arginine Silicate, Potassium Glycerophosphate) 230mg 5%
L-Citrulline - 5,000mg *
L-Taurine - 2,000mg *
GlycerSize (65% Glycerol Powder) 2,00mg *
Beet (Beta-vugaris)(root) 500mg *
Dan-Shen (Salvia miliorrhiza) (root) Extract - 100 mg *
S7 50mg *
(green Coffee (coffea arabica)(bean) Extract, Green Tea (camellia sinensis)(leaf) Extract, Turmeric (Curcuma longa L.)(rhizome) Extract, Tart Cherry (Prunus cerasus)(cherry), Blueberry (Vaccinium corymbosum)(berry), Broccoli (Brassica oleracea italica)(whole), Kale (Brassica oleracea acephala)(leaf)
BioPerine (Black Pepper)(Piper nigrum (fruit) Extract 5 mg *
**Daily Value not established

Other Ingredients: Natural Flavors, Citric Acid, Silicon Dioxide, Sucralose, Acesulfame Potassium, Blue #1