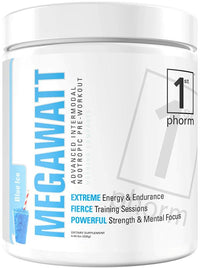 1st Phorm MegaWatt Pre-Workout
1st Phorm MegaWatt is a pre-workout supplement designed to enhance your energy, focus, and performance during your workouts. Pre-workout supplements are formulated to help you push through intense exercise sessions, increase your endurance, and maximize your results.
Supplement Facts
Serving Size: 1 Scoop
Servings Per Container:50 (5.7g)
Calcium (from Aquamin Sea Minerals) 120mg 9%
Niacin 16mg 100%
Vitamin B6 (as Pyridoxine) 5mg 294%
Magnesium (from Aquamin Sea Minerals 10mg 2%
Aquamin Sea Minerals 1000mg *
Choline Bitartrate 1000mg *
L-Tyrosine 1000mg *
Natural Caffeine (from Green Coffee) 150mg *
Neurofactor (Whole Coffee Fruit Extract)(Coffee Arabica) 100mg
BioPerine (std. 95% Black Pepper Extract) 10mg

Other Ingredients: Citric Acid, Natural and Artificial Flavor, Malic Acid, Silicon Dioxide, Sucralose, Acesulfame Potassium.