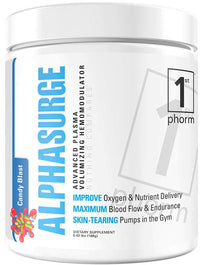 1st Phorm AlphaSurge
Stimulant-free pre-workout supplements are designed to provide the benefits of a traditional pre-workout without the use of stimulants like caffeine. These supplements typically contain ingredients that can improve blood flow, increase focus, and enhance muscle endurance without the jitters or energy crashes associated with stimulants.
Supplement Facts
Serving Size: 1 scoop (9.4g)
Servings Per Container: 20
Vitamin C (as Ascorbic Acid) 500mg 555%
Calcium (as Di-Calcium Malate) (DimaCal) 116mg 9%
Potassium (as Potassium Glycinate Complex) 100mg 2%
Sodium (as Sea Salt) 176mg 7%
Glycersize (65% Glycerol Powder) 2000mg **
Agmatine Sulfate 1000mg **
Alpha GPC 50% (l-alpha-glycerylphosphorylcholine) 600mg **
L-Norvaline 250mg **
Pine Bark Extract 95% 150mg **
Daily Value not yet established
** Percent Daily Values are based on a 2,000 calorie diet. Your Daily Values may be higher or lower based on your calorie needs.
DimaCal is a trademark of Albion Laboratories, Inc.
Other Ingredients:
Citric Acid, Silicon Dioxide, Natural and Artificial Flavors, Sucralose, Acesulfame Potassium.
* These statements have not been evaluated by the Food and Drug Administration. This product is not intended to diagnose, treat, cure, or prevent any disease.