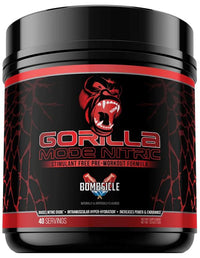 Gorilla Mind Gorilla Mode Nitric
Gorilla Mode Nitric Stimulant Free Pre-Workout Formula massive increase in nitric oxide (NO) levels, vasodilation, intracellular hydration, and as significant of a boost in muscle strength and endurance as you can get from a legal non-hormonal pre-workout. This product is maxed out from all angles.

The traditional Arginine–eNOS–nitric oxide (NO) pathway is completely saturated with an unheard-of dose of L-Citrulline, as well as topped-out dosages of Nitrosigine and Agmatine Sulfate for good measure.

Over a gram of nitrates also ensures that the nitrate–nitrite–nitric oxide (NO) pathway is taken care of.

Supplement Facts
Serving Size 1 Scoop (17.75g)
Servings per container 40
1 Scoop (17.75g)
Amount per serving %DV
Sodium 202.5mg 7%
(from sodium nitrate)
Potassium 37.5mg 1%
(from inositol-stabilized arginine silicate)
L-Citrulline 5000mg †
Creatine Monohydrate 2500mg †
Betaine Anhydrous 2000mg †
GlycerPump 2000mg †
(65% Glycerol Powder)
Malic Acid 1500mg †
Agmatine Sulfate 750mg †
Nitrosigine 750mg †
(inositol-stabilized arginine silicate)
Sodium Nitrate 750mg †
VasoDrive-AP 127mg †
(isoleucyl-prolyl-proline (IPP) and valyl-prolyl-proline (VPP) isolated from hydrolyzed milk casein)
† Daily Value Not Established
Other Ingredients: Silicon Dioxide, Natural & Artificial Flavors, Sucralose, Acesulfame Potassium
Contains: Milk