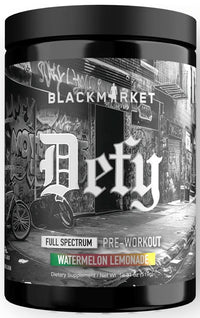 BlackMarket Labs Defy Pre-Workout
Blackmarket Lab Defy is a comprehensive and potent formula.
Let's break down some of the key ingredients and claims:

Pump and Performance: L-Citrulline (5 grams): This is a popular amino acid known for its role in promoting nitric oxide production, which claims to enhance blood flow and contribute to better pumps during workouts. A 5-gram dosage is quite substantial and should contribute significantly to vasodilation.

Betaine Anhydrous: Betaine is often included in pre-workouts for its potential claims and benefits in power output, strength, and endurance. A 2.5-gram dosage is within the effective range for this ingredient.

Alpha GPC:  Alpha GPC is a cholinergic compound that claims to support cognitive function. At 300mg, it's a solid dosage and may contribute to improved focus and mind-muscle connection during workouts.

Energy and Focus: Caffeine blend of a full 238 mg includes different sources of caffeine, possibly for a more sustained and smoother energy release. This dosage falls within the moderate to high range, offering a significant boost in energy and alertness.

Supplement Facts
Serving Size - 1 Scoop (12.79g)
Servings Per Container - 40 (1 scoop)
Amount Per Serving %DV
Calories 25
Total Carbohydrates 0g <1%*
Total Sugars 0g
Calcium 24mg 4%
Sodium 55mg 5%
PUMP & PERFORMANCE 9,853mg 
L-Citrulline 5,000mg
Betaine Anhydrous 2,500mg
Beta-Alanine 1,600mg
Alpha GPC 50% 300mg
Choline Bitartrate 300mg
Pink Himalayan Salt 150mg
Bioperine Black Pepper Extract
(Piper nigrum)(fruit) 2.5mg
ENERGY & FOCUS 1,498mg
L-Tyrosine 500mg
Dendrobium Extract 10:1 300mg
N-Acetyl-L-Tyrosine 250mg
Eria Jarensis Extract
(N-Phenethyl-Dimethylamine Citrate) 75mg
Velvet Bean Extract (mucuna pruriens)(seed) 25mg
Caffeine Anhydrous 150mg
Cafe Alatus
(Natural Caffeine Arabica)(coffee bean) 50mg
Infinergy (Di-Caffeine Malate) 38mg
Citrus Aurantium
Extract 25% (as Synephrine) 60mg
L-Theanine 50mg
Other Ingredients: Malic Acid, Natural Flavors, Citric Acid, Calcium Silicate, Silicon Diocis, Sucralose, Acesulfame Potassium, Vegetable Juice (Color)
Percent Daily Values are based on a 2000 calorie diet.
Daily Value (DV) not established