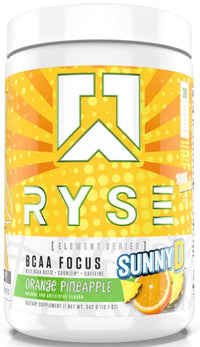 Ryse Supplements BCAA Focus
Ryse Supplement BCAA FOCUS is a versatile product designed to offer various benefits for individuals leading an active lifestyle. 

Intra-Workout Support: Consume the supplement during your workout to spark a recovery. The 2:1:1 BCAA ratio (Branched-Chain Amino Acids) can help with muscle recovery and reduce muscle soreness.
Mid-Day Energy Boost: Sip on Ryse BCAA Focus during the day for a natural energy boost. The 80mg of Natural Caffeine can provide a moderate and sustained energy release without the jitters.
Focus Enhancement: Take advantage of the focus support provided by Choline Bitartrate and Cognizin. This can be particularly beneficial for tasks that require mental alertness and concentration.
Hydration Maintenance: Ensure you maintain hydration by using the supplement, thanks to the inclusion of essential electrolytes like Sodium and Potassium. Electrolytes are crucial for maintaining proper fluid balance and supporting muscle function.
Supplement Facts
Serving Size 1 Scoop (12g)
Servings Per Container 30
Amount Per Serving % Daily Value*
Total Carbohydrates 1gm <1%
Dietary Fiber <1g 3%
Vitamin C (as Ascorbic Acid) 45mg 50%
Vitamin B12 (as Methylcobalamin) 10mcg 420%
Choline (from Choline Bitartrate) 420mg 80%
Sodium 320mg 14%
Potassium 80mg 2%
BCAA BLEAND 5gms *
L-Leucine 2500mg *
L-Valine 1250mg *
L-Isoleucine 1250mg *
Natural Caffeine Anhydrous 80mg *
Citicoline (as Cognizin) 25mg *

Other Ingredients: Organic Agave Inulin, Malic Acid, Trisodium Citrate, Natural Flavor, Citric Acid, Pink Himalayan Sea Salt, Silica, Sucralose, Potassium Chloride, L-Tartaric Acid, Acesulfame Potassium.