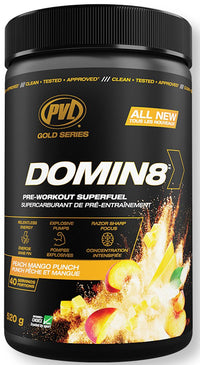 PVL Domin8 Pre-Workout
PRE-WORKOUT SUPER FUEL
Dominate by definition: "To be in total control. Hold the power to defeat." Introducing the hardest working pre-workout in the game DOMIN8. A research-driven complex of 8 mission-critical ingredients, fully loaded to deliver euphoric energy & focus that sets a new standard. Time to bring it, drive it, energize, lift, push & power through like never before! You're one scoop away! GREATNESS AWAITS. DOMIN8.
Features the "Dynamic Duo" Power Pump Blend. 8g L-Citrulline Malate Boosted by Nitrosigine
8g L-Citrulline Malate Relentless Strength & Energy – 2 Stage Timed Release Caffeine Boosted by Nitrosigine Blend + Beta-Alanine
Game Ready Neuro Loaded Complex for Razor Sharp Focus – Lions Mane + Tyrosine
Hydration & Pump – Pink Himalayan Salt & Aquamin – Natural Electrolytes
Built for the Best! Informed Choice Tested – Safe for Sport 
The label below is for arctic slush flavor.  Other flavors may vary slightly.
Supplement Facts
Serving Size 1 Scoop (26 g)
Servings Per Container 20
Amount Per Serving %DV
Calories 20
Total Carbohydrate 4 g 1%*
Vitamin C (as Ascorbic acid) 250 mg 278%
Vitamin B12 (as Methylcobalamin) 6 mcg 250%
Calcium 150 mg 12%
Magnesium (as Oxide) 120 mg 29%
Sodium 100 mg 4%
Advanced Power & Pump Blend 12.9 g **
Citrulline Malate (2:1) 8 g **
Beata-Alanine 3.2 g **
Taurine 600 mg **
Nitosigine (Inositol-Stabilized Arginine Silicate) 500 mg **
Aquamin (Red Algae Minerals) 500 mg **
Calcium Carbonate (L. Corallioides)
Himalayan Pink Sea Salt 100 mg **
Game Ready Neuro Blend 1.55 g **
L-Tyrosine 600 mg **
Caffeine Anhydrous 300 mg **
Caffeine Citrate 130 mg **
L-Theanine 250 mg **
Lion's Mane Mushroom Extract 250 mg **
(Hericium erinaceus) (30% polysaccharides)
Huperzine A 1% (Huperzia serrata) 10 mg **
BioPerine Black Pepper Extract 10.2 mg **
(Piper nigrum) (fruit) (95% Piperine)
*Percent Daily Values are based on a 2,000 calorie diet.
**Daily Value (DV) not established
Other Ingredients: Rice Starch, Maltodextrin, Silicon Dioxide, Calcium Silicate, Tricalcium Phosphate, Citric Acid, Natural Flavors, Tart Cherry, Naringin, Potassium Citrate, Sucralose, Sea Salt, Purified Stevia Leaf Extract (Rebaudioside A), Inositol, Colors (Turmeric, Red Beet Powder).