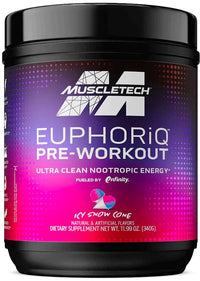 Muscle Tech Euphori Q Pre-Workout
Muscle Tech Euphori Q Pre-Workout

Need a less-jittery energy boost? MuscleTech EuphoriQ has got you covered. Its unique blend of ingredients, including paraxanthine, taurine, and huperzine-A, provides a sustained and smooth energy boost that keeps you focused and alert without the crashes. Give MuscleTech EuphoriQ a try and experience the difference for yourself. 
THE WORLD'S FIRST SMART PRE-WORKOUT FUELED
Supplement Facts
Serving Size: 1 Scoop (17g)
Servings Per Container: 20
Amount Per Serving Amt%%DV
Total Carbohydrates<1g0%
Vitamin B6 (as pyridoxine hydrochloride)0.42mg25%
Vitamin B12 (as cyanocobalamin)2.4mcg100%
Choline (as alpha-glyceryl phosphoryl choline)60mg11%
L-citrulline4g†
Beta-alanine3.2g†
Betaine anhydrous2.5g†
nooLVL Inositol-Enhanced Arginine Silicate1.6g†
Taurine1g†
L-tyrosine500mg†
enfinity (paraxanthine)300mg†
AlphaSize alpha-glyceryl phosphoryl choline (A-GPC)300mg†
NeuroFactor decaffeinated coffee extract (as Coffea arabica) (fruit)100mg†
Huperzine A (as Huperzia serrate) (whole plant)10mcg†
* % Daily Value is based on a 2,000 calorie diet. Your daily values may be higher or lower based on your calorie needs.
† Daily Value (DV) not established.
Ingredients
Citric Acid, Silicon Dioxide, Malic Acid, Natural and Artificial Flavors, Sucralose, Acesulfame-Potassium, Coconut Water (as Cocos nucifera) (fruit), Beta-Carotene (Color).
Allergen Warning
Contains coconut ingredients. Processed in a facility that also processes milk, soy, peanuts, wheat, tree nuts, egg, fish and shellfish ingredients.