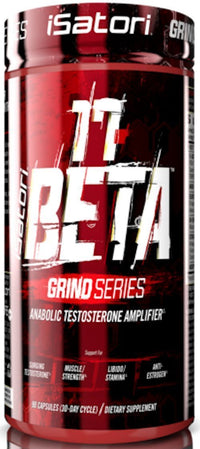 iSatori 17-Beta 90 Caps
iSatori 17-Beta is a unique synergistic and powerful combination of natural ingredients that supports testosterone and a supports reduction in the "female" estrogen. It's designed to support noticeable gains in strength, increased muscle mass, and improved performance.

Anabolic Test Amplifier supports:

Surging Test.

Muscle/Strength.
Supplement Facts
Serving Size: 3 Vegetarian Capsules
Number of Servings: 30 Servings
Amount Per Serving % Daily Value
17-BETA TESTOSTERONE/PERFORMANCE MATRIX 2,330 Mg **%
5-LAXO-T COMPLEX - (FENU-T FENUGREEK SEED EXTRACT (TRIGONELLA FOENUM-GRAECUM)(STD. MIN. 50% SAPONINS, FURASTANDIC SAPONINS, AND PROTODIOSCIN)(600 MG), DIOSCOREA NIPPONICA MAKINO ROOT EXTRACT (STD. MIN. 40% PROTODIOSCIN), TRIBPRO 90 TRIBULUS TERRESTRIS FRUIT EXTRACT (STD. MIN. 90% SAPONINS), METHOXYISOFLAVONE). 800 Mg **%
ANDRO-TEST AGENT ANDROSTENOLONE (DHEA). 50 Mg **%
ELEVATE-TN LIBIDO COMPLEX - (D-ASPARTIC ACID, SAFED MUSLI ROOT EXTRACT (CHLOROPHYTUM BORIVILIANUM)(STD.MIN. 50% SAPONINS), AVENA SATIVA (WHOLE PLANT) EXTRACT, BULBINE NATALENSISPOWDER (STEM AND TUBER). 1,000 Mg **%
GH-SURGE COMPLEX - ( MUCUNA PRURIENS SEED EXTRACT (STD.MIN. 15% L-DOPA), DEER ANTLER VELVET. 160 Mg **%
ESTROGEN CORTISOL PROLACTIN INHIBITOR COMPLEX - ( ASHWAGANDA ROOT 5:1 EXTRACT (WITHANIA SOMNIFERA), YACON ROOT (SMALLANTHUS SONCHIFOLIUS), BLADDERWRACK WHOLE PLANT (FUCUS VESICULOSUS), RESVERATOL ROOT EXTRACT (POLYGONUM CUSPIDATUM), CHRYSIN SEED EXTRACT (OROXYLUM INDICUM), CALCIUM LACTATE GLUCONATE), DIINDOLYLMETHANE, INDOLE-3-CARBINOL, WHITE BUTTON MUSHROOM FRUIT EXTRACT (AGARICUS BISPORUS). 315 Mg **%
ABSORPTION AGENT - (BIOPERINE (PIPER NIGRUM) FRUIT EXTRACT) 5 Mg **%
Other Ingredients: Cellulose (Capsule), Vegetable Magnesium Stearate, Silicon Dioxide, Titanium Dioxide.