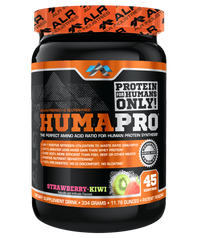 ALRI (ALR Industries) HumaPro 45 servings CLEARANCE
ALRI HumaPro is marketed as a highly efficient and revolutionary protein and amino acid supplement. Here are some key points about this product:

High Amino Acid Concentration: HumaPro is claimed to be exceptionally high in amino acids, particularly branched-chain amino acids (BCAAs) which are crucial for muscle growth and recovery.

Amino Acid Efficiency: The product asserts that each gram of HumaPro is equivalent to nearly 6 grams of whey protein isolate in terms of amino acid content. This suggests that it provides amino acids in a concentrated form, which can be beneficial for muscle protein synthesis.

Versatility: HumaPro can be taken at various times, including pre-workout, intra-workout, and post-workout. This flexibility is meant to offer benefits across the entire workout period, helping with energy, recovery, and muscle maintenance.

Ideal for Bulking and Cutting: The marketing claims suggest that HumaPro can be used effectively whether you're in a bulking or cutting phase. For those looking to gain muscle mass, it can aid in muscle growth, while those in a cutting phase can benefit from the amino acids for maintaining muscle and overall recovery.

Please Note: Any supplement depends on various factors including diet, exercise, and overall health.
Supplement Facts
Serving Size: One (1) Scoop (7.42 Grams per Serving)
Servings per Container: 45
Amt Per Serving %DV*
Vitamin & Mineral NNU Co-Factors
Vitamin B-1 (Thiamin) 0.7mg 50%
Vitamin B-3 (Niacin) 9.0mg 50%
Vitamin B-6 (Pyridoxine HCL) 1.0mg 50%
Vitamin B12 (Cyanocobalamin) 1.5mcg 75%
Calcium Carbonate 175mg 17.5%
Magnesium Citrate 87.5mg 50%
Zinc Gluconate 3.75mg 25%
Particle-Sized Essential Amino Acid IR (Immediate Release) Proprietary Matrix:
L-Leucine, L-Valine, L-Isoleucine, L-Lysine, L-Threonine, L-Phenylalanine, L-Methionine, L-Tryptophan, L-Tyrosine, L-Histidine, L-Cystine, L-Leucine Malate 5.0g **
Extended Time Release Proprietary Anti-Catabolic And Insulingenic Matrix:
Bitter Melon Extract, Green Coffee Bean Extract (caffeine free) 250mg **
*Percent Daily Values Based on a 2,000 calorie diet.
**Daily Value not Established.
Other ingredients: Sucralose, Malic Acid, Acesulfame Potassium, Maltodextrin, Gum Acacia, Natural Flavor, Silicon Dioxide (as Anti-Caking Agent)