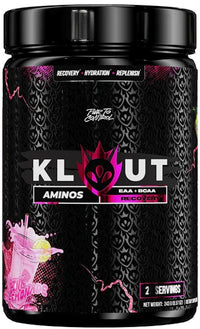 Klout Aminos EAA & BCAA
Our aminos are designed to be a cost-effective EAA and BCAA product that also includes Coconut Water Powder for hydration in a full 25 servings. Aminos are some of the most trusted and studied supplements in the industry and are known to help with recovery, muscle growth, and hydration among other things. When you get 25 full servings, at this price, with these flavors it's a no-brainer.
Don't know what this is too.

Supplement Facts
Servings Size 1 Scoop (9.7g)
Servings Per Container 25
Amount Per Scoop %DV
BCAA 2:1:1 (L-Leucine, L-Isoleucine, L-Valine) 5000mg **
L-Lysine 750mg **
L-Threonine 650mg **
Coconut Water Powder 250mg **
Aquamin Soluble 200mg **
(as Seaweed derived calcium and magnesium, citric acid, malic acid)
L-Phenylalanine 125mg **
L-Histidine HCI 100mg **
L-Tryptophan 50mg **
L-Methionine 25mg **
**Daily Value not established
Other Ingredients: Malic Acid, Natural & Artificial Flavors, Silicon Dioxide, Citric Acid, Sucralose, Acesulfame Potassium