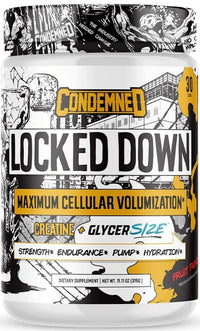 Condemned Labz Locked Down
Condemned Labz Locked Down is designed to enhance hydration, energy production, muscle volume, stamina, endurance, and overall performance during physical activities.

Let's break down the claims and key points:

Improves energy production: Locked Down claims to contain ingredients that support the body's energy production processes, possibly aiding in sustained energy levels during exercise.

Cellular hydration:  Locked Down claims to contribute to maintaining optimal levels of hydration at the cellular level. Proper hydration is crucial for various physiological functions, including muscle function and overall performance.

Muscle volume and fullness:  Condemned Labz mention of muscle volume and fullness could suggest that Locked Down claims to contain ingredients that promote increased blood flow to the muscles, potentially resulting in a more pronounced and full appearance.
Supplement Facts
Serving Size: 1 Scoop
Servings per Container: 30
Creatine Monohydrate 5,000mg *
Hydromax (Glycerol Powder 65%) 3,000mg *
L-Taurine 1,000g *

Percent Daily Values (%DV) are based on a 2000 calorie diet
** Daily Value Not Established.
Other Ingredients: Malic acid, Natural & Artificial Flavoring, Silicone Dioxide