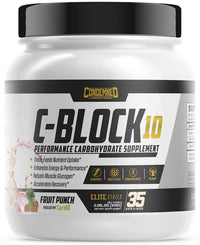 Condemned Labz C-Block 10
Condemned Labz C-Block 10 is the latest breakthrough in sports nutrition.
Hard training athletes know the true value of carbohydrates. They're essential to high-level performance, glycogen replenishment, and recovery. But until now, lifters were relegated to cheap, insulin-spiking carbohydrates such as dextrose or maltodextrin. Aside from wreaking havoc with your blood sugar levels, these carbohydrates led to unwanted GI distress as well as a heavy, lethargic feeling that diminished performance and essentially made you want to take a nap.
Each serving of C-Block 10 delivers a robust 25-gram dose of Carb10, a high molecular weight, low osmolality carbohydrate derived from pea starch that digests rapidly, with no stomach upset and no heavy, sluggish feeling only increased stamina and less fatigue.

C-BLOCK 10 BENEFITS

Supports energy production
Enhances athletic performance
Replenishes muscle glycogen
Force-feeds nutrient uptake
Accelerates recovery
Reduces fatigue
Decreases soreness
Combats muscle breakdown
Increases muscle fullness & pumps
Supplement Facts
Serving Size 1 scoop (25 grams) 
Servings Per Container: 40
Amount Per Serving %DV
Calories 84
Total Carbohydrates 21g 7% 
Organic Pea Starch (as Carb 10) 25g *
Other Ingredients: None
Allergen Warning: Manufactured on shared equipment that may produce products containing Milk, Egg, Soy, Wheat, Peanut, Treenut, Fish and Shellfish Ingredients