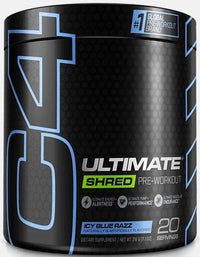 Cellucor C4 Ultimate Shred Pre-Workout
Cellucor C4 Ultimate Shred pre-workout is a popular line of pre-workout supplements, and Ultimate Shred is positioned as a product that claims to enhance energy levels, support fat burning, improve performance, and boost muscular endurance.

Here are some claims and key points based:

Energy and Fat-Burning: C4 Ultimate Shred claims that not only provides a boost in energy but also supports fat-burning processes. This suggests that the formula may contain ingredients that enhance metabolism or promote the use of stored fat for energy.

Performance Enhancement:  Ultimate Shred claims to take performance to the next level. Pre-workout supplements often contain ingredients like caffeine, beta-alanine, and nitric oxide precursors, which can contribute to improved performance, focus, and blood flow during workouts.

Muscular Endurance: C4 Ultimate Shred claims to help improve muscular endurance. This could be attributed to ingredients that buffer lactic acid build-up or support efficient energy production in muscles.

Wide Range of Consumers:  C4 Ultimate Shred is suitable for a broad audience, ranging from beginners to elite competitors. This implies that the formula is designed to cater to various fitness levels and goals.

 Supplement Facts
20 Servings
Serving Size: 1 Scoop (15.8)
Servings Per Container: 20
Amount Per Serving Amt %DV
Calories 5
Total Carbohydrates 1g <1%
Total Sugars 0g
Calcium (as Calcium Silicate) 80mg 6%
C4 Super Citrulline Pump Matrix 6g *
L-Citrulline 4g†
Citrulline Nitrate (No3-C) 1g *
Citrulline Malate 1g *
CarnoSyn Beta-Alanine 3.2g†
Taurine 1g *
Caffeine Anhydrous 300mg *
AlphaSize 50% Alpha-glycerylphosphorylcholine 200mg *
Theacrine (as TeaCrine) 62.5mg *
Capsimax Cayenne (Capsicum annuum) Fruit extract 100mg *
Oligonol Lychee Fruit and Green Tea (Camellia sinensis) Leaf Extract 50mg *
CaloriBurn GP Grains of Paradisa (Aframomum melegueta) seed extract 46mg *
Gingever Ginger (Zingiber officinate) root extract) 10mg *
Toothed Clubmoss (Huperzia serrata) whole plant (std. Huperzine A) 5mg *
BioPerine Black Pepper (Piper nigrum) fruit extract 5mg†
Rauwolfia vomitoria root bark extract 1mg *

Other Ingredients: Citric Acid, Natural & Artificial Flavors, Calcium Silicate, Silicon Dioxide, Malic Acid, Sucralose, Acesulfame Potassium, FD&C Red #40
* % Daily Value is based on a 2,000 calorie diet. Your daily values may be higher or lower based on your calorie needs.
† Daily Value (DV) not established.