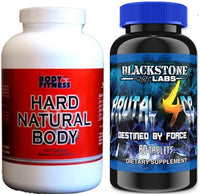 Blackstone Labs Brutal 4ce w/Hard and Natural Body
Blackstone Labs Brutal 4ce with Hard and Natural Body
Blackstone Labs Brutal 4ce is designed for individuals looking to build muscle and is commonly used by bodybuilders and athletes. Brutal 4ce contains two time-released esters: 4-androstene-3b-ol, 17-one undecanoate, and 4-androstene-3b-ol, 17-one Caprylate. These esters are added to the molecule to control its release, which means that you only need to take one tablet in the morning and one in the evening, eliminating the need for multiple dosages throughout the day.

Hard Natural Body is a potent all-natural supplement that can make the difference between a strong body and a flabby, smooth appearance. Incredible results have been reported with the use of HARD NATURAL BODY.
Brutal 4ce
SUPPLEMENT FACTS
Serving Size: 1 Tablet
Servings Per Container: 60
4-DHEA Blend 65mg
4 androstene-3b-ol, 17-one
4 androstene-3b-ol, 17-one Undecanoate
4 androstene-3b-ol, 17-one Caprylate
Other Ingredients: Microcrystalline Cellulose, Phosphatidylcholine, HydroxyPropyl-beta-cyclodextrin, Phytosterol, Stearic Acid, Magnesium Stearate, Starch, Titanium Dioxide, Silica, FD&C Blue #1
Hard and Natural 
Supplement Facts
Serving Size: 2 Capsules
Servings Per Container: 50
Amount Per Serving %DV
Pure Yohimbe Bark Extract 1000mg**
Saw Palmetto Berry 1000mg**
Mexican Mild Yam 100mg**
Orchic 500mg**
Muira Puama 500mg**
Other Ingredients: Dicalcium Phosphate, Stearic Acid, Microcrystalline Cellulose, Magnesium Stearate, Silicon Dioxide, Pharmaceutical Glaze (Shellac, Povidone).