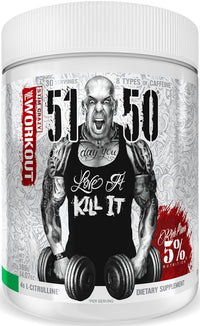 5% Nutrition 5150 Pre-Workout
"5% Nutrition 5150" is a pre-workout supplement created by Rich Piana's company, 5% Nutrition. The name "5150" was chosen to emphasize that this pre-workout is designed for serious stimulant enthusiasts, and it is not intended for the average or casual user. The term "5150" is often used colloquially to refer to a psychiatric hold or involuntary psychiatric evaluation in some areas, particularly in the United States. It implies that the product is so potent that it may have a strong and intense effect on those who consume it, making it suitable only for individuals who can handle extreme levels of stimulation and energy.
Please note that the formulation and marketing of dietary supplements can change over time, so it's essential to check the product's label and description for the most up-to-date information on its ingredients and intended use. Additionally, consult with a healthcare professional before using such high-stimulant products to ensure they are safe and appropriate for your specific needs and health status.
Supplement Facts
Serving Size 13.1 g
Servings Per Container 30
Amount Per Serving % DV
Vitamin B12 (as Cyanocobalamin) 1000 mcg 1667%
Vitamin B3 (as Niacin) 30 mg 188%
L-Citrulline 4000 mg **
Beta Alanine (CarnoSyn®) 3000 mg **
L-Taurine 2000 mg **
N-Acetyl L-Tyrosine 750 mg **
Choline Bitartrate 500 mg **
Alpha-Glyceryl Phosphoryl Choline 50% 200mg **
Cocoa Alkaloid Extract (theobroma cacao L.)(seed)(Cocobuterol) 80mg **
Synephrine Hydrochloride 45 mg **
Toothed Clubmoss (Huperzia Serrate)(aerial parts)(standardized to 1% Huperzine A) 50 mcg **
STIM-CRAZY CAFFEINE COMPLEX: 513 mg **
Caffeine Anhydrous, Dicaffeine Malate (Infinergy), Theobromine, Caffeine (from Green Tea (Leaf)), Yerba Mate Extract (Leaf), Guarana Extract (Paullinia cupana), Rauvolfia Canescens (Alpha-Yohimbine) (whole plant), Green coffee bean extract (seed), Gotu Kola Extract (Centella asiatica) (Whole herb)
Other Ingredients
Natural Flavors, Citric Acid, Sucralose, Silicon Dioxide, Yellow #5, Blue #1