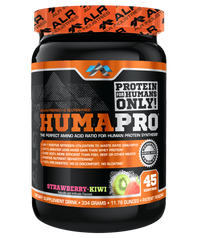 ALRI (ALR Industries) HumaPro 45 servings CLEARANCE
ALRI (ALR Industries) HumaPro 45 servings
ALRI HUMAPRO: THE ULTIMATE BCAA & AMINO ACID SUPPLEMENT
No other protein supplement or bcaa / amino acid supplement compares to the power of Humapro. Period. This is the most revolutionary supplement on the market today. Whether you are bulking or cutting, this is the perfect supplement to add to your stash!

Each gram of Humapro is equal to nearly 6 grams of whey protein isolate. Yes...6 grams! No other supplement out there can say that. You can take this product pre-workout, intra workout and post workout...you get benefits across the board.  

1 grams of Humapro = 6 grams of whey protein isolate
0 carbs
0 calories
0 caffeine
No Gluten, Soy, Sugar, Lactose or Heavy Metals
Vegan Friendly
HOW DOES IT COMPARE TO HIGH PROTEIN FOODS?
1 serving of HumaPro:
0.02 Calories, *25g Protein, 0g Carbs & 0g Fats.
4 oz. of Chicken Breast: 130 Calories, 24.20g Protein, 0g Carbs & 23.95g Fats.
5 oz. Lean Beef: 361 Calories, 24.38g Protein, 0g Carbs & 28.40g Fats.
Supplement Facts
Serving Size: One (1) Scoop (7.42 Grams per Serving)
Servings per Container: 45
Amt Per Serving %DV*
Vitamin & Mineral NNU Co-Factors
Vitamin B-1 (Thiamin) 0.7mg 50%
Vitamin B-3 (Niacin) 9.0mg 50%
Vitamin B-6 (Pyridoxine HCL) 1.0mg 50%
Vitamin B12 (Cyanocobalamin) 1.5mcg 75%
Calcium Carbonate 175mg 17.5%
Magnesium Citrate 87.5mg 50%
Zinc Gluconate 3.75mg 25%
Particle-Sized Essential Amino Acid IR (Immediate Release) Proprietary Matrix:
L-Leucine, L-Valine, L-Isoleucine, L-Lysine, L-Threonine, L-Phenylalanine, L-Methionine, L-Tryptophan, L-Tyrosine, L-Histidine, L-Cystine, L-Leucine Malate 5.0g **
Extended Time Release Proprietary Anti-Catabolic And Insulingenic Matrix:
Bitter Melon Extract, Green Coffee Bean Extract (caffeine free) 250mg **
*Percent Daily Values Based on a 2,000 calorie diet.
**Daily Value not Established.
Other ingredients: Sucralose, Malic Acid, Acesulfame Potassium, Maltodextrin, Gum Acacia, Natural Flavor, Silicon Dioxide (as Anti-Caking Agent)